Restore Welfare Work Requirements. Support HR 1179, co-sponsored by Paul Ryan.
Work for welfare was a bipartisan principle until the Obama administration suspended work requirements in response to the Great Recession. Six years later, it is time to get Americans back to work!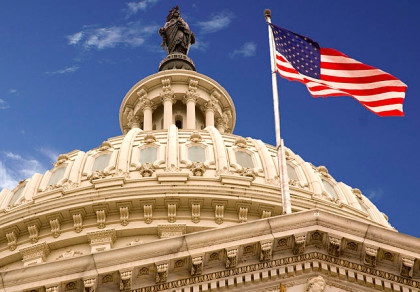 Background:
Since 2009 the percentage of the populaion recieving welfare has INCREASED, not fallen. Participation in the workforce has fallen to its lowest level in 40 years. The government is getting what it is paying for: people not to work.
Under the 1996 bipartisan welfare reforms signed into law by President Clinton, the federal food stamp program was redesigned to encourage beneficiaries to pursue employment for the first time in its history. Able-bodied recipeints without dependents could only recieve three months worth of food stamp benefits before they were required at least 20 hours a week or spend an equal amount of time in job training programs.
Following these reforms, welfare cases fell by 20 percent and employment increased by 4 percent. In short, it was a huge success!
Yet in 2009, President Obama and Congress suspended these work requirements when they passed and signed the Stimulus Bill into law. States meeting certain criteria could request a waiver of the work requirements. At the height of the recession, 47 states did. In 2015, six years later, 42 states plus the District of Columbia will still not have food stamp work requirements for able-bodied childless adults. As a result, the number of these people on work-free food stamps has doubled to nearly 4 million.
In 2012, the Department of Health and Human Services (HHS) began the process of waiving work requirements for another welfare program, Temporary Assistance for Needy Families (TANF). Several states expressed interest in applying for these waivers as well.
This is a huge problem. In 35 states, combined federal welfare programs can exceed the minimum wage. In many states, welfare pays more than starting pay in professions like teaching and computer programming.

Engage:
While the federal safety net is an important institution, it has become a taxpayer-funded hammock. Six years removed from the recession it is time to begin tightening work requirements, not loosen them. Tell Congress to pass HR 1179, Preserving the Work Requirement for Welfare Act, sponsored by Rep. Tom Reed (R-NY) and cosponsored by Rep. Paul Ryan (R-WI). The act will prevent HHS from doing to TANF what the Obama administration has already done to the food stamps program by solidifying its work requirements.

Encourage your representative to cosponsor this bill and support it as it moves through Congress.

Also tell them it is time to restore work requirements to ALL welfare programs, including food stamps.

It's time to get Americans back to work!

Current Cosponsors (is your representative on the list?):
Rep. Reed, Tom [R-NY-23]
Rep. Ryan, Paul [R-WI-1]
Rep. Boustany, Charles W., Jr. [R-LA-3]
Rep. Jenkins, Lynn [R-KS-2]
Rep. Tiberi, Patrick J. [R-OH-12]
Rep. Paulsen, Erik [R-MN-3]
Rep. Black, Diane [R-TN-6]
Rep. Marchant, Kenny [R-TX-24]
Rep. Johnson, Sam [R-TX-3]
Rep. Smith, Jason [R-MO-8]
Rep. Holding, George [R-NC-13]
Rep. Young, Todd C. [R-IN-9]
Rep. Kline, John [R-MN-2]
Rep. Price, Tom [R-GA-6]
Post Public Comments
Public Comments (77)
Mar 31st, 2015
Tim G. from Russellville, AR signed.
Mar 31st, 2015
bobby b. from Maryville, TN signed.
Mar 29th, 2015
Someone from Morganton, GA signed.
Mar 28th, 2015
Terry O. from San Antonio, TX signed.
Mar 27th, 2015
Someone from Lawrenceburg, IN writes:
We now have more people on some type of government assistance than working taxpayers. What is wrong with this picture?
Mar 27th, 2015
Bob W. from Denton, TX signed.
Mar 27th, 2015
Lisa B. from Chicago, IL signed.
Mar 27th, 2015
Someone from Bedford, VA signed.
Mar 27th, 2015
Someone from Livingston, TX signed.
Mar 26th, 2015
Someone from Washington, NC signed.